SESSION #1

Inspired by a phone receiver and
dangling cord from the "magic suitcase."


WRONG NUMBER

I have a friend who like to sell phones.
She sells different models that use many tones.
I called a pizza man and said,
"Would you give me some French bread?"
Phones, all shapes and sizes, used so many ways.
I called up the baker and asked for a doughnut with glaze.
Phones can me used to argue and yell.
But don't do it -- your brother might tell!


SESSION #2

Inspired by a witchy-looking doll
from the "magic suitcase."


THE WITCH ON FEAR FACTOR

There once was a lady I thought was a witch.
She turned on the lights without a switch.
She was dancing, she was prancing with her broom.
That's because she loced me in a room of doom.
Her skirt was brown and her shirt was pink.
I don't like those colors, so wash them down the sink.
Was she an old lady, or was she an actor?
She scared me so much like the show called "Fear Factor."


Here is a poem from Kaitlyn, of room 23

The days I hate most are when I cry.
I see the tears build up in your eyes.
I am sad and I know you are too.
But remember I will miss and think of you
no matter where i am. I will write you letters,
that is, if you write first.
Now you know the days I hate most.




Here is a picture of my dog, Jagger, as drawn by Holly L.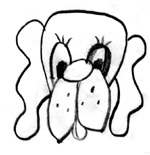 here is a picture given to me by Alexis



And more more wonderful drawing, this time by Alexandra E.


Here is a poem sent in by Arianna S.

CALL THE DOCTOR

Mommy call the doctor.
Sister broke her arm
on the table.
And she broke her leg on
the bookshelf and she had to
go to the doctor.
I don't want her
In the doctors on my birthday
May 6.





This is a poem by Sabrina

THE PERFECT PERSON

Her hair was as soft as silk,
Her teeth were as white as milk,
She had the most beautiful eyes,
Her nose was just the perfect size ,

I know her very well,
But I don't know her name, she just won't tell,
The way she talked it was so cool,
Compared to her I am a fool.


Here is a poem by Brittany
QT

I know a friend that likes to sell phones.
She sell them in different styles and tones
I think her name is QT Sandy.
and she is always saying phones are dandy.


Here is a poem by Cody,
an Apollo 4th Grader in Miss Gill's class.

LITTLE MISS WITCH AND THE GREEN GOBLIN

Witches are mean and goblin's are green
and bat's are black and they fly at night
and I would not want to be awake at night.
Last night I heard them scream!!
I was so scared so much that I even blushed.